At Hostelling International, we're all about making the world a better place. As the wise Eleanor Roosevelt once said, 'It isn't enough to talk about peace. One must believe in it. And it isn't enough to believe in it. One must work at it.' So, let's roll up our sleeves and work together for peace!"
We are calling all peaceseekers to help us celebrate the UN day of World Peace, 21 September and make this our most impactful Say HI for Peace yet.
Say HI for Peace 2023 is fast approaching, and we want YOU to be a part of it! We believe peace is a journey, a continuous process of self-awareness, learning, understanding, and taking action. But, we all need a little help along the way, right?
What would you do for peace?
Ready to make a difference? It's easy! Take a moment to think about the ways you already contribute to peace. It could be as simple as being the first to reach out and make new friends, learning about different cultures and injustices, or promoting positive initiatives in your community. Whatever it is, let's turn it into a personal peace pledge/promise.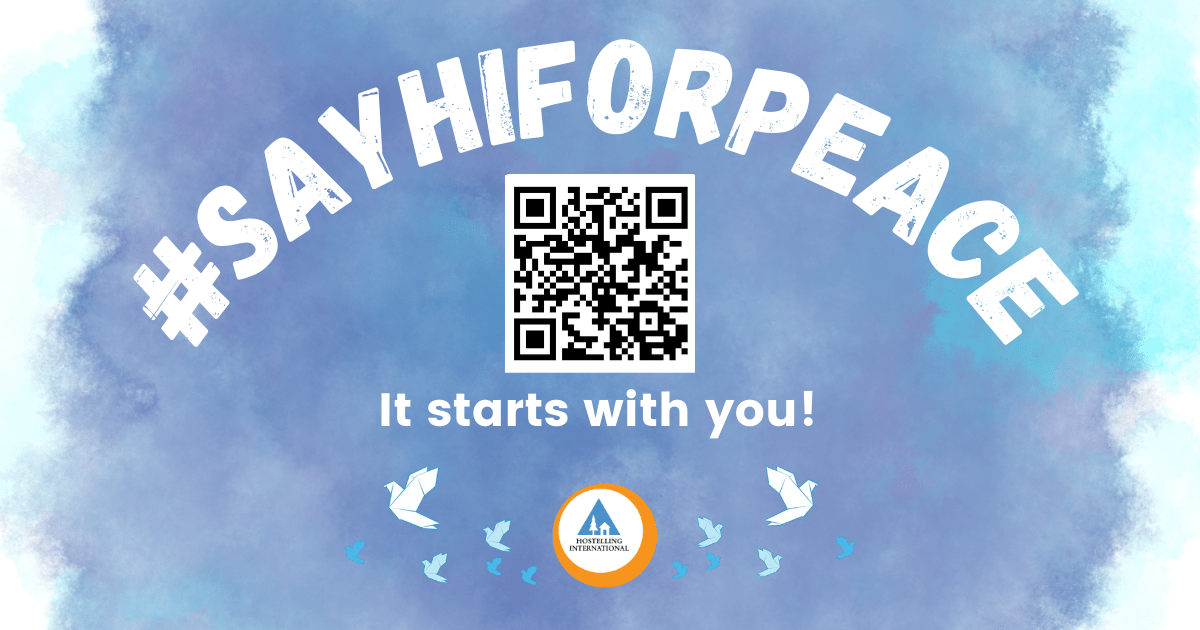 Scan the QR code to help us ignite change!
Feeling inspired? Share your peace pledge in a short video. You can inspire others and ignite change in a big way.
Not comfortable going public? No worries, you can keep it private too. Scan the QR code above or click to take our peace pledge survey and let us know how you would contribute to making the world a better place!
Join in the Peace Day celebrations. On the 21 September, hostels across the HI network will come together to celebrate and host special festivities. It's going to be a day filled with positivity, unity, and peace-building actions.
Keep up to date and follow us on social media in the run-up to 21 September , and on the big day itself, to join in on the fun and see how others are making their peace pledges.
Help us inspire the world and share your peace pledge too! Don't forget to tag us @hihostels and use #sayhiforpeace.
Would you like to support our work towards creating a sustainable future?
All donations go towards supporting our sustainable mission and programmes.