Way, way on Canada's West Coast there's a bit of a tropical island. Okay, it's not technically tropical, but it is technically a rainforest (just a temperate one), and this special coastal climate means the island gets mild weather year-round making the villages, towns, and small cities dotted across it a perfect place to visit year-round. So head west—far west—to visit some of the best British Columbia has to offer on Vancouver Island.

In Nanaimo you can plunge right into island life and start exploring the great outdoors, the moment you're off the boat.
To check out life below sea level, visit Nanaimo Dive Outfitters and go snorkelling or scuba diving—BC is known as one of the best cold water diving locations in the world, so you've come to the right place if you want to see some amazing sea life.
For activities that are a little drier—but still awesome—take Nanaimo's Bastion Tour and see the cannon firing, or visit WildPlay Element Park for a day of activities and adventure for kids of every age (even if it's just at heart).
End your days by heading out to the Dinghy Dock—Canada's only floating pub. There's a ferry that will take you there for $9 round trip—or if you still have some energy to burn and some daylight left, rent kayaks or stand up paddleboards to enjoy the sunset while you paddle your way there—the beer will taste even better that way!

We've discussed some of the great things about Victoria here before, but we couldn't talk about the island without mentioning it again! Not only has it recently been named Canada's Most Romantic City (for the second year in a row), there are tons of outdoor and indoor activities, attractions, restaurants, and bars to keep anyone entertained for a weekend (or more!).
For some great historical and architectural points of interest, as well as some beautiful landscapes and gardens you can enjoy in any weather (if properly equipped, of course), head out on foot. Explore the historical Inner Harbour, wander past (and into) the historic Empress Hotel, pop by the Royal BC Museum to brush up on your BC history and then carry on to the gardens and pathways of Beacon Hill Park all the way through to Dallas Road on the other side, with views of Washington state across the strait. Whew.
To fill your tummy and whet your whistle, Spinnakers is a must-try while you're in town. Victoria is known for its variety of breakfast places—a couple of our top picks are: Jam Café, which serves breakfast all day, and has literally every kind of breakfast you could imagine… sweet, savory, alcoholic—they have it all, and Shine Café—check out their amazing list of bennies—to die for! For cheap, amazing seafood (think fish tacos, fish and chips, chowders) check out Red Fish Blue Fish—it's right on the water and has outdoor seating only, so make sure you visit on a day where you can enjoy the view! Canoe Brewpub is a super popular place for dinner and drinks—they also have live music and an amazing view.
And for more live music, visit Swans Hotel & Brewpub—for something different to dance to every night!

Often underestimated and not as well-known as the rest of the list, Cumberland is a hot spot for lovers of all things mountain biking, hiking, rock climbing and the great outdoors. You can park your car at the hostel and not touch it again until you leave—parks, climbing rocks, lakes and biking trails are all within minutes of the town centre. Here's a typical day in Cumberland—it's jam packed, and you could spend a week here and still be having a blast:
Brunch: Mar's on Main (great local eats and a quaint, cozy atmosphere) or The Waverley Hotel (Cumberland's local watering hole), which does a brunch every Sunday.
Head out on your bike! There's a HUGE network of trails all within pedal distance of downtown. Trails are well-marked and available for every skill level. Rent a bike from Dodge City Cycles, which is connected to the hostel, and make sure to pick up a sandwich to go from Tarbell's deli downstairs. After your bike ride stop by the Wandering Moose Café (located in the original post office building… built in the early 1900's) on your way home for some AMAZING gelato, coffee and other treats. They've got a great outdoor space and plenty of racks to park your bike, so you can sit and enjoy some sun with your gelato.
Head out to Comox Lake! It's only a five-minute drive (20-minute bike ride) out of town and has boat/seadoo/paddleboard rentals, a kids playground, a concession stand and lots of walking trails as well.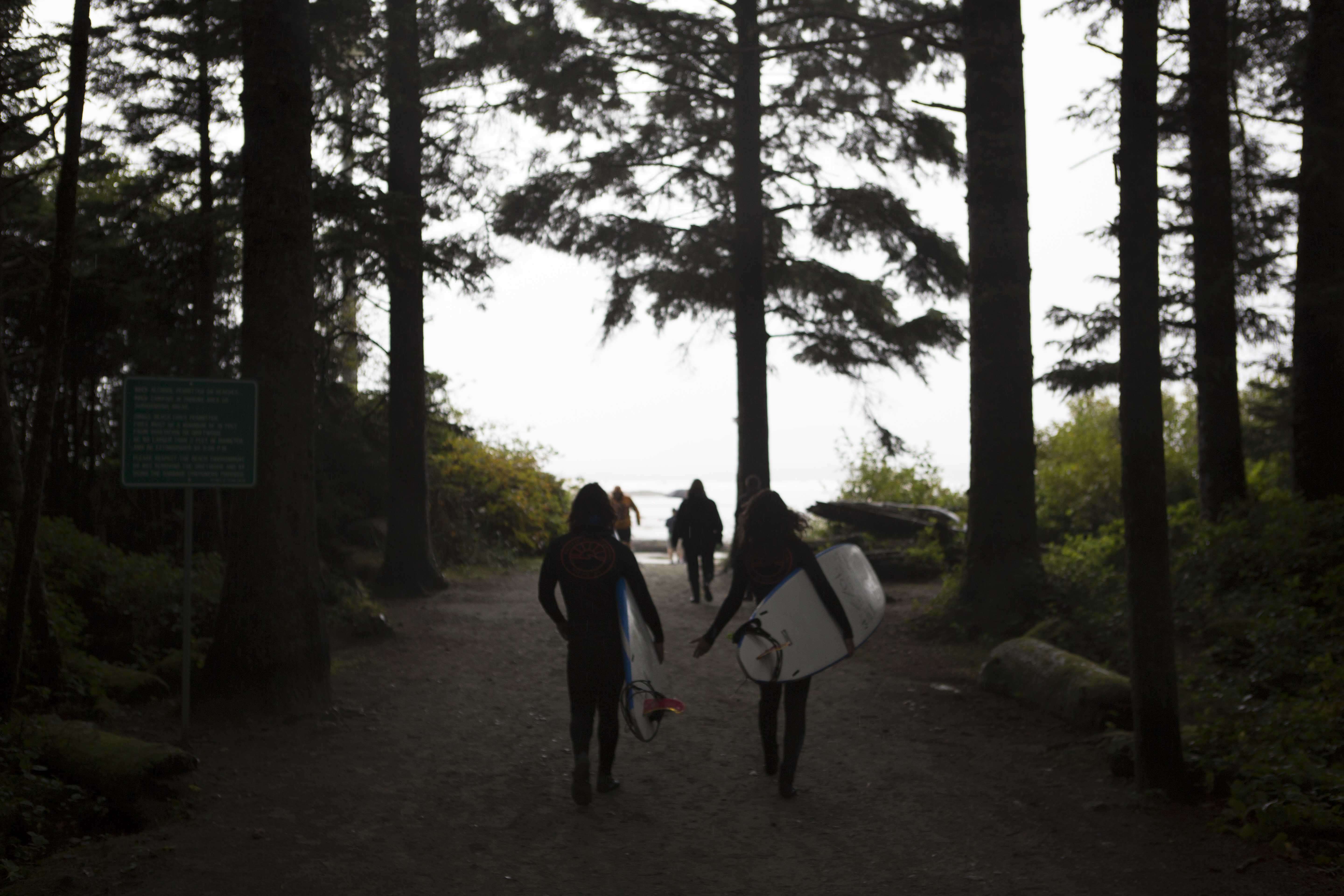 There is one main beach where all the action happens, but there are a ton of other "local-known" beaches if folks want to get away from the crowds (ask your hostel front desk for the inside scoop). If you're around on a Wednesday, make sure to hit up "Wednesday Burger Night" at the "Wave" (Waverly Hotel). If you're downtown anytime after 6 p.m. on a Wednesday and it looks like a ghost town, it's because everyone is at burger night. It's $6 for a burger and fries and they have veggie/salad options as well. Nightlife is also big in Cumby, especially in the summer. The Wave hosts bands/DJs throughout the year, but also has the "Block Party" in July where they section off a portion of the main street, set up a few stages and have a mini-festival right there downtown!
For a sweet treat, head to Cumberland Village Bakery for one of their famous donuts—a local favourite. And to get some brownie points with everyone back home, pick up some organic chocolate from Dark Side Chocolates (you should probably get extra for your trip home as well).

Maybe the most popular spot for tourists and BC locals of the list, Tofino lives up to its reputation—a beautiful laid back surf town with amazing seafood and incredible beaches—a great destination any time of year.
Tofino is to surfing what Cumberland is to mountain biking (and vice versa), with five exposed beaches along the western coastline, all getting between one to eight metres of swell on average, even more in the winter (if you can brave the cold!). It's definitely the best place to surf in Canada, and therefore has a ton of options for surfers of all ages and skill levels. Ask at the hostel for the best place to rent a board (and a wetsuit!) and take lessons.
On the other end of the spectrum, you can also find some amazing calm waters to go sea kayaking and explore nearby islands. Beginners can rent kayaks and go with professional guides who will teach you the proper techniques and make sure you don't get lost. It's a great way to see marine life you'd otherwise miss.
Known also for its amazing wildlife sighting opportunities, Tofino is a great place to catch a glimpse of migrating whales or black bears hunting for fish on the beach. Take a tour for either—and make sure you're always practicing bear safety, to help keep you AND them safe.
As for food and drink—we could write a whole other blog post about what to consume while visiting this seaside town. Highlights include Wolf in the Fog for dinner or lunch, which was named the Best New Restaurant of 2014 by enRoute Magazine; Tacofino food truck—the original food truck for the chain that is now blowing up in Vancouver. They have amazing, cheap tacos all year long—a must for a post-surf or beach walk snack. The Pointe at the Wickaninnish in is a must-visit for the views alone, but it's definitely a splurge—we suggest going for brunch (still amazing) if you're watching your budget.
GETTING THERE
To avoid traffic and driving yourself, hop on Tofino Bus from Vancouver, Victoria or Nanaimo—HI Members get a 10% discount on all trips. Or, drive or walk on to either ferry from the mainland (Horseshoe Bay or Tsawwassen, depending on where you're going!).
---
This article was originally published by our favourite flannel-wearing buds over at HI Canada.